About us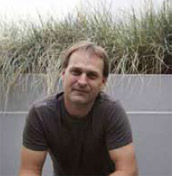 Tim Newbold
Tim Newbold trained in advanced joinery and panel work before setting up his own company, Domus. His expertise brings together the traditional skills and artistry of carpentry with modern style, materials and finishes. Tim's understanding of the scale and proportions of classic design enable him to create furniture that has a timeless quality and which suits any style or period of room.
Bespoke Contemporary Furniture
For over 20 years Domus has been working from their workshops and studio in East London. "Our aim is to fulfil the client's brief without fuss and with simple but impressive furniture that has understated elegance and simple clean lines" says Newbold.
Domus's projects range from kitchens and studies in new-build, city centre apartments to bedrooms and bathrooms in large, traditional family homes. Their skills lie in customising furniture to fit a specific space and fulfil a designated function, and in this way they are able to maximise every available centimetre as well as work in around irregular shapes and awkward features.
Specialist fixtures and details include self-closing drawers, smooth concealed runners, recessed and integral door handles as well as wall mounted 'floating' units and invisible support shelving.
Surface finishes can be customised either to blend with existing wall colours and surfaces so that they are almost imperceptible or finished in contrasting coloured lacquers, fabrics or unusual, grained wood veneers that make them an eye-catching feature of the room.
Domus's bespoke furniture service includes on-site visits, detailed drawings and estimates, and is available to private clients, architects and interior designers. Most furniture is constructed off site and assembled at the location so that there is a minimum of disturbance to the client. Through this site you can see a representative range of their work and testimonies to their abilities.
How it works
Following initial discussion, whether by phone or email, we will give you a preliminary estimate: our minimum commission rate is £1,500. After this we arrange to visit you on site, either at your home or, if you are an architect or interior designer, at the location where the work is to be carried out. At our first meeting we will talk through your requirements in more detail and discuss the options available.
Conceptual designs and ideas are then prepared in our offices and submitted with a detailed estimate of costs. When the final drawings and budget are approved we aim to start work within weeks, and will endeavour to adhere to the time estimate given, once the work commences.