MILAN FURNITURE FARE
I have just returned from my annual pilgrimage to Milan to see the latest in furniture design . This year four halls at the salon de mobile were devoted to kitchens which  was great as last year it was lighting .
Highlights and design trends in kitchens 
Hob extraction  integral to the hob as shown by Bora 
I have not used this hob but am installing a kitchen at the moment with a Gaggenau hob and separate electric lift up extraction which ,although is fabulous has proved very involved and requires quite a bit of additioal worktop depth. (pictures coming later of this set up ). so this looks like an attractive , simpler solution- subject to the performance of the induction hob. The extraction  worked very well as shown on their stand
Induction hobs
Induction hobs are now gaining more and more ground over gas hobs:  check out the youtube videos showing how they perform against gas such as this one
Featured in the show was  induction hobs with invisible controls . With even invisible scales and a sink that lowered and raised. I loved the shaped top but maybe a gadget to far !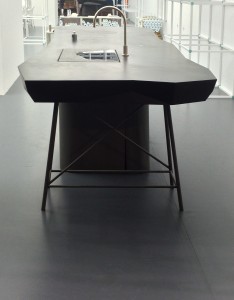 New Smeg Products
Smeg , after many years in the wilderness have produced a lovely  D&G fridge designed fridge which will brighten up any kitchen  and a nice looking oven which is also available in  in black .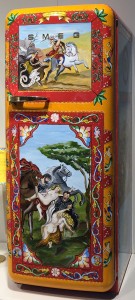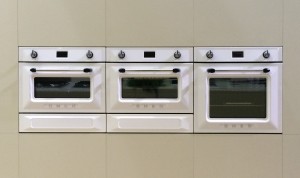 A feature I  liked was ovens seated on worktops or at least appearing to be   . I think this worked well and here are a few examples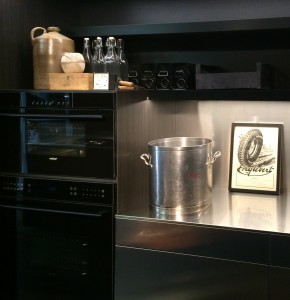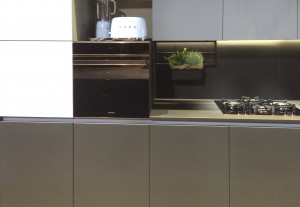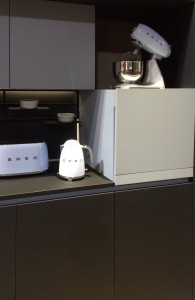 I saw lots and lots of open shelving with a lot featuring  glass doors. They looked great with the  manufactures' artistic displays, but how will they look with all our kitchen stuff inside them ? Certainly great for the those who want to get artistic inside the cupboards.
There was a big showing of Crittall type windows and doors : they were shown as room dividers; walls; pantries- in fact  where ever they could fit them in !
I also saw a lot of shelving behind and on the worktop, with very cleaver well- engineered storage. It is however,  rarely practical to bring the worktop out another 200 or so mm  and loose valuable floor space.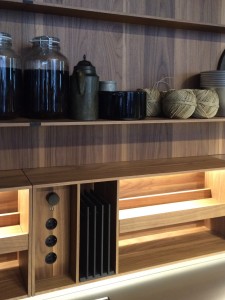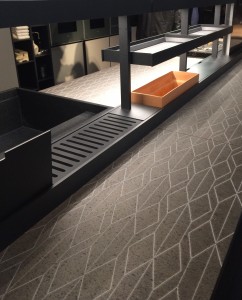 There were lots of marble worktops with lovely marble sinks, many of  which were given a sort of butlers sink- type makeover. They protruded from the worktop made of the same material. They were often higher and incorporated  integral drainers. I loved these ,but again, marble is not a practical choice for kitchen worktops and especially sinks  as it is porous and will come with no guarantees of  longevity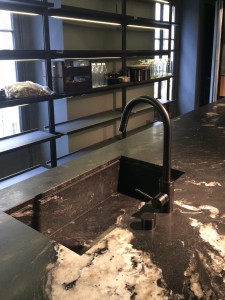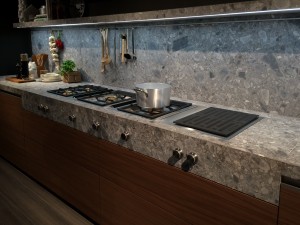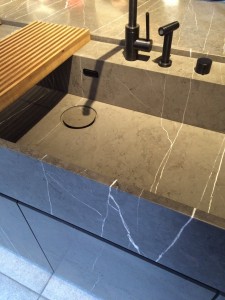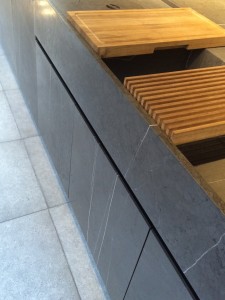 There was a lot of rustic oak everywhere ,which I really like.and have just used a lot of this timber on a project for myself  which will be shown on the Domus web soon.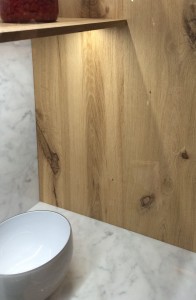 I want these knives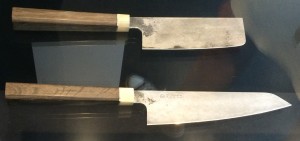 Tables and other highlights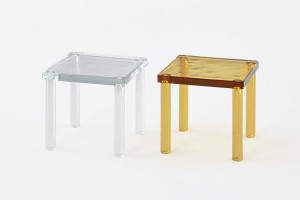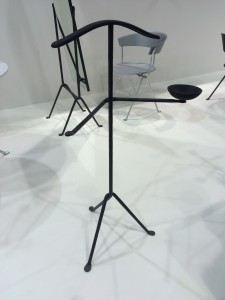 The  stand-out designers for me, most years, are the Bouroullec brothers (who created the cast glass tables above and coat stand shown above) and Patricia Urguiola. This year I also liked the work of Konstantin Grcic, who did some nice tables in cast iron below.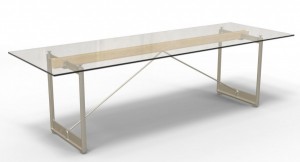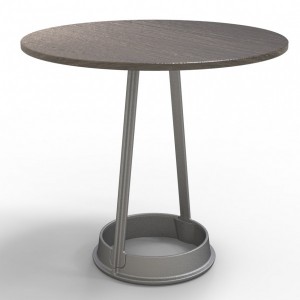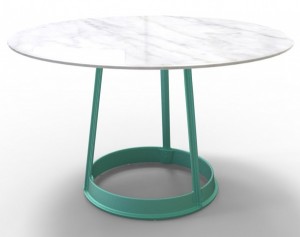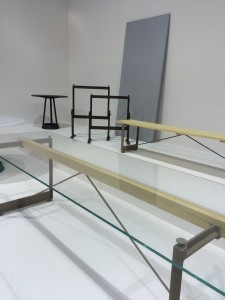 I liked Russel pinch's table in cast Jesmonite with a lovely hand painted finish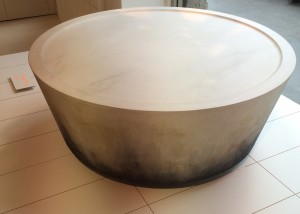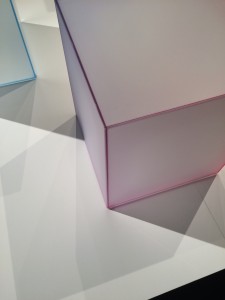 Attractive glass table
Domus Furniture
If you have been inspired by any of the products or designs from the show , contact Domus Furniture to discuss how we could bring these ideas and more into your new kitchen project. we cover  London, Worcestershire and the surrounding areas and you can see examples of our work at www.domusfurniture.co.uk